North Fork Yoga Shala Retreats
Here at North Fork Yoga Shala, in Greenport, we are really proud of our expanding offering of several retreats both near and far as well as the variety of workshops and trainings that we hold both with our own instructors and talented guest instructors and facilitators.
Our retreats, currently led pre-dominantly by Claire Copersino, our Founder and Director, span the globe, and range from a few wonderful days within driving or public transport distance to further afield in Mexico, Costa Rica, various locations in Europe, northern Africa and several in the planning stage that will be further afield.  It is often the case that once someone has joined one retreat, they catch the bug, so to speak, and attend another .. and another .. and another.  Don't say you weren't warned J
It is truly magical to watch new connections form on our retreats, new yoga-family bonds be created and very much a family vibe set in within the first 24 hours amongst our small, intimate groups wherever we may be calling home on our retreats.  These connections then grow once back home and you now know that person who was once just a face across the studio.   As a result the community and family feel of the studio just continues to deepen and expand and sweeps everyone who walks through our doors up into the glow.
Claire Copersino Yoga Retreats, trainings, and workshops are curated based upon suggestions from you as well as initiatives from our team of instructors and we always welcome your thoughts, ideas and feedback.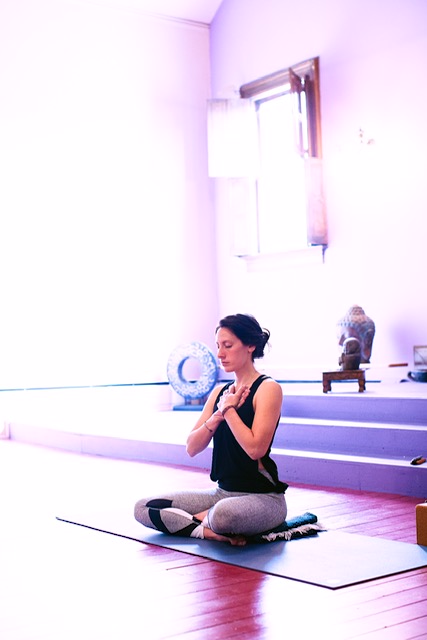 Yoga Therapy Workshop
February 17, 2019 @ 12:30 pm

-

2:00 pm

|

$30.00
Join Rebekah for this introductory experience as you delve into the multi-faceted exploration of Yoga as a therapeutic tool to enhance your life and well being. Yoga therapy involves the application of yoga to enhance health and wellness on every level: physically, psychologically, and spiritually. The Yoga therapy journey brings balance back into the body and mind as the yoga therapist and the student(s) work as a co-creative team to develop personalized tools that can be taken off the mat and applied in their everyday lives. 
All levels are welcome! In this workshop you will be getting an overview of what yoga therapy is. We will introduce some tools used in a yoga therapy session including: body mapping, pranayama, guided meditation, and learning/applying the five koshas. 
Rebekah is working towards becoming an 800 hour yoga therapist through Kripalu School of Integrative Yoga Therapy. Through this training she is learning how to create classes that bring together asana, pranayama, mudra, yoga nidra, mantra, and meditation into a complete package that can then be applied through a therapeutic format geared to an individual's or group's needs.