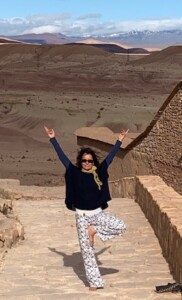 We are completely thrilled to be announcing our very first MULTI-DESTINATION YOGA ADVENTURE!!!  Claire's first retreat to Morocco in 2019 led her to explore this incredible country from top to bottom, east to west and out of these travels we have created an extraordinary opportunity to blend a bespoke, customized tour with yoga to deliver a real taste of the diversity and stunning beauty of this magical Kingdom.
Our guide, Omar, has been taking people all over Morocco for over 20 years and is beloved wherever he goes.  He has a permanent smile on his face and knows the entire country like the back of his hand.  Wherever he goes he is welcomed as a beloved friend and creates truly unique and charmed experiences that transform his guests into his vast circle of friends.  He will pick us up at Casablanca airport in as many Toyota Land Cruisers as we need and guide us until he drops us off 10 days later with a lifetimes worth of memories to take home and cherish.
Each day we will take breakfast and dinner at our Riad, while keeping lunch open to enjoy as we explore.  We'll practice yoga mostly in the morning, but may shift some yoga practices to the afternoon if our itinerary dictates.  However, when we are in the Sahara Desert at the amazing luxury camp at Erg Chebbi for 2 nights, we will drop way down into retreat mode and get to practice yoga twice daily we well as meditate in the dunes at sunrise (!).
THE DETAILS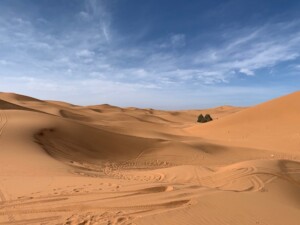 And so, our adventure begins when we are picked up in Casablanca!  From here we will drive to Fés and settle in to the beautiful and friendly Riad Dar Tafilalt which is located inside the Medina, for 2 nights.  We'll spend the entire next day exploring the ancient walled medina, Fes El Bali, before our second night in this Imperial city.  Next morning we take the spectacular drive south across the Anti (or low) Atlas Mountains south to the Sahara and Erg Chebbi.  Here you'll find the largest and most magnificent dunes in all of the Moroccan Sahara.  We'll stop at the oasis of Meski and enjoy a traditional couscous lunch with Omar's family before heading into the Sahara that afternoon in time for yoga before sunset and dinner.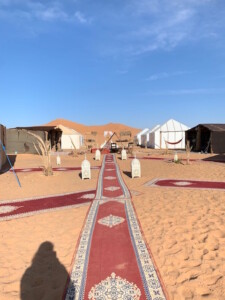 The "tents" are truly luxurious, featuring their own complete private bathrooms with hot water showers and lots of space to spread out.  Each night in the Sahara we'll have a campfire and music under the stars, sunrise meditation on the dunes, yoga each morning and afternoon and breakfast and dinner.  We'll get to visit some nomad villages, enjoy a sunset camel trek and punctuate our tour with a spacious relaxed pause here for 2 nights before heading off to see more of what makes Morocco so very special.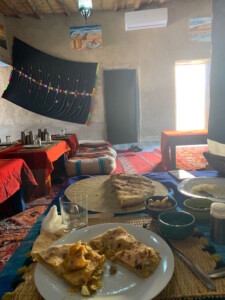 From Erg Chebbi, we'll take what is widely considered one of the worlds most beautiful drives through the majestic Gorges au Todra.  We will then drive through the Rose Valley onto Skoura and end up in Ouarzazate which is known as the "doorway to the desert". We'll have a relaxed homemade dinner and spend the night in the charming and welcoming Riad Oz Palais.  Next day after yoga and breakfast we head off to explore the UNESCO World Heritage Site of Kasbah Aït Benhaddou, (look it up it is otherwordly (as is everything else frankly)).  We will enjoy tea at the oasis of Fint (yes oases are a real thing!), as well as visit smaller kasbahs and some film studios (Ouarzazate boasts several – think Game of Thrones, Gladiator …) before heading home to yummy supper and our second night with Ibrahim at the lovely Oz Palais.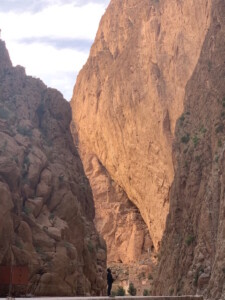 Next day we travel through the High Atlas Mountains (breaktaking …) and stop along the way at a village or two for tea.  We'll visit Kasbah Telouet (original ancient mosaics and silks adorn the crumbling walls) and then travel on to the next-level luxury and effortless ease of The White Camel Lodge.  The lodge is 1/2 hour drive from the bustling, vibrant and friendly city of Marrakech and we will bask here for our last three nights.  A full couple of days exploring the medina, palaces, the majorelle gardens, enjoying a hammam/massage should you choose, and some time basking at the luxurious White Camel and then rounding it all out with wonderful and delicious dinners at The White Camel to crown these incredible adventures we will have shared.  Next day you'll have time to enjoy the beautiful serenity of our lodge before Omar drives us back to Casablanca.  We'll say "see you soon" (he refuses to say goodbye) to our new friend and favourite Moroccan Guide and travel home with a treasure trove of unforgettable memories.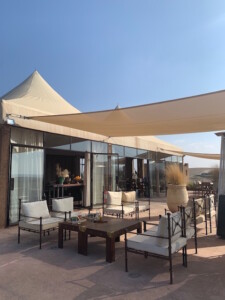 ITINERARY
.  Monday February 12th Arrive Casablanca on Royal Air Maroc AT201 (your responsibility to book your flight)
.  February 12th & 13th ~ Fés 2 nights at Riad Dar Tafilat
.  February 14th & 15th ~ Erg Chebbi, Sahara Desert at the Luxury Camp
.  February 16th & 17th ~ Ouarzazate at Riad Oz Palais
.  February 18th, 19th & 20th ~ Marrakech at The White Camel Luxury Lodge
.  February 21st ~ Depart Marrakech to Casablanca to fly home (or on to your next adventure!)
YOUR INVESTMENT
$3600 per person based upon double occupancy (shared room)
$4900 private (single) occupancy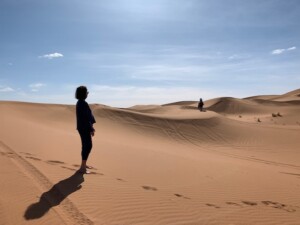 WHAT'S INCLUDED
.  All transportation in Morocco.
.  10 days with our delightful private tour guide Omar
.  9 nights accommodation
.  Our local guides in the medinas of Fés and Marrakech
.  Breakfast and Dinner each day
.  All yoga & guided meditation
.  Optional Sunset Camel Trek
.  Optional Sandboarding in the Sahara (think snowboarding desert style)
.  Visiting several ancient Kasbahs
.  So much more!
$750 deposit secures your spot and is non-refundable.  We expect this trip to fill very quickly and recommend you plan ahead!  WE STRONGLY RECOMMEND TRAVEL INSURANCE.  Unforseen circumstances do unfortunately occur and it is always good to be protected just in case, not least for peace of mind.  You are responsible for your flight to Casablanca and I will tell you which flight to book.  I strongly urge you to go with my recommendation so that we all arrive simultaneously as Omar and his drivers will be picking us up at the airport to head to Fés (a couple hours drive).  IF you prefer to take your own different flight option, you will be responsible for getting yourself to Fés to meet us. Claire has travelled extensively throughout Morocco and has spent a lot of time in each of the places we'll visit so please email her with your questions at:  [email protected].  She is so looking forward to sharing some of this spellbinding country with you.