You just have to say the word "Tulum…." to feel the vibe of a tranquil, relaxed and simply stunning little town on the Yucatan Peninsula, 90 miles south of Cancun.
Tulum's most iconic, eco-chic boutique hotel, Amansala, will be our home, right on the powdery white sandy beaches overlooking the turquoise waters and daily sunrise. Aman: meaning Peace, Sala: waters, perfectly encapsulates what it is to drop in to this home away from home that focuses on the natural beauty and resources of Tulum, where they have created simple yet beautiful rooms, a menu brimming with fresh, delicious and healthy meals and a super warm and welcoming atmosphere that is akin to a friends beach house. You will simultaneously have the experience of being indulged and pampered while restoring your body, mind and spirit to emerge feeling even better than you did when you arrived.
This will be our 11th annual winter retreat and if you haven't experienced this before, are you in for a treat! If you are returning to Tulum you understand what it is that keeps calling us back.   The beachfront studios are each unique and magical for different reasons and along with our oceanfront home, Amansala Resort, provide the perfect setting for really peeling back the layers and accessing a much deeper, more profound connection to your practice and yourself.  There is no setting more conducive – all the ingredients to this location and retreat are absolutely spot on.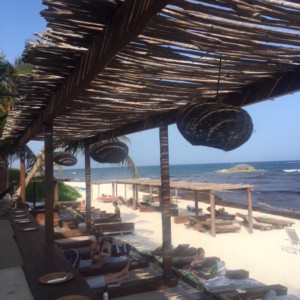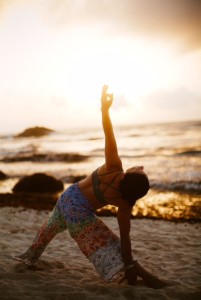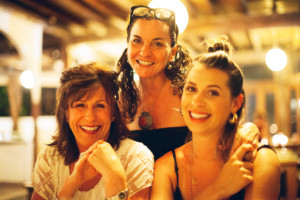 Amansala resort is the perfect place from which to curate your perfect retreat experience. If you're interested in exploring, then the world famous Mayan Ruins are a short 10 minute bicycle ride away, as are a variety of gorgeous, unique cenotes a short trip away. Town is 10 minutes in a taxi, or 30 minutes on a bike and the Sian Ka'an biosphere reserve where you can explore by truck and boat are close by to the south. Meanwhile, if you're all about removing your shoes upon arrival and not putting them back on until its time to return home, then this is the place for you. This is barefoot beach life at its best, with on-site extraordinary mayan healers, massage therapists, intuitive healers and spa services to punctuate your yoga, beach-walks, naps, divine meals and some wonderful times with your fellow retreat peeps recalibrating to your natural rhythms that are perfectly in-sync with all that surrounds us.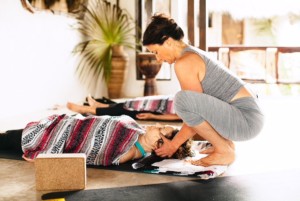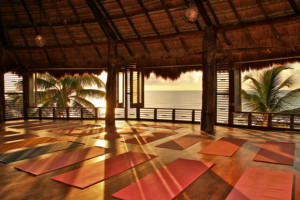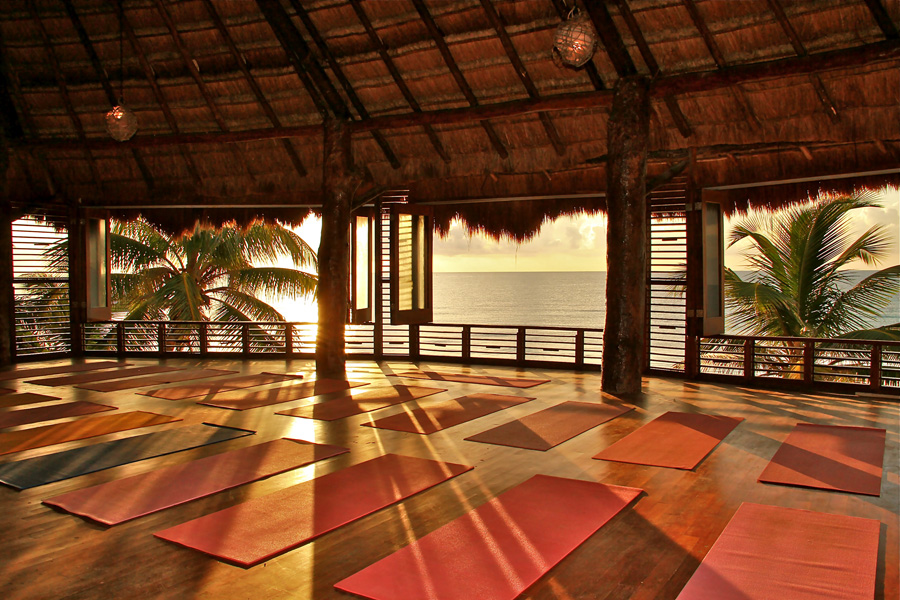 WHAT'S INCLUDED
* Yoga twice daily with Claire Copersino
* Daily Meditation
* 3 Delicious meals daily, plus yummy mid-afternoon snacks with the exception of one night for an off-site supper out
* 6 nights, 7 days accommodation in the perfect beachfront location
ADDITIONAL OPTIONS
* Mayan Clay Treatment
* Temezcal (Mayan Sweat Lodge)
* Massage, Mayan Healing, spa services
* Various Cenote trips
* Mayan Ruins Tour
* WiFi $20 for the week
* Bike Rental $20 for the week
A TULUM DAY GOES SOMETHING LIKE THIS
* 7a Morning Meditation
* 7.30a Fruit, Granola, Yoghurt, tea, coffee
* 8.30a Yoga
* 11.30a Brunch/Lunch
* 12-4p Free time – tour options, spa treatments, sea, sun sand, nap …. relax ….
* 4p Snack
* 5p Yoga
* 7.30p Supper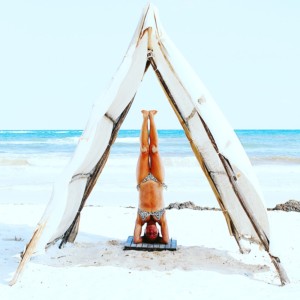 PRICES FOR YOUR PLEASURE
Best Oceanfront, Single Occupancy $3500
Oceanfront, Single Occupancy $3200
Deluxe Oceanfront, Double Occupancy $3100 per person
Oceanfront, Double Occupancy $2900 per person
Double Occupancy, Partial Ocean or no
Ocean View $2500 per person
Triple Occupancy $2200 per person
Garden View, Single Occupancy $2700
Garden View, Double Occupancy $2200 per person
A $750 non-refundable deposit secures your spot. Payment in full is required no later than January 16th 2019 with any reservations made after January 1st 2019 payable in full. Cancellations 8 weeks before departure will be refundable minus the $750 deposit. As we know, last minute emergencies do happen and we highly recommend you purchase travel insurance to protect yourself.
Fly to Cancun International Airport (CUN), arriving on Wednesday 13th March 2019. Amansala organizes shuttles to transport us from the airport to Tulum and cost can range from $45 – $150 depending on number of people sharing. Once you've booked your flight email your itinerary to Claire. Departure is on March 19th 2019 unless you decide to add a few extra days onto your time in paradise!