On the untouched coast of the Southern Pacific, in an area that is known as the Emerald Coast of Nicaragua, lies a hidden gem of place, Verdad. Verdad was built with the intention of creating spaces that allow guests to take in the sweeping views of this stunning hillside overlooking the Pacific Ocean in laid-back luxury that oozes ease and lacks formality. You can expect all the comfort, details, and excellence of a high-end resort in a small boutique hotel that is also eco-conscious and off the grid (they create 100% of their own electricity via solar power). Additionally, drinking water is carbon filtered.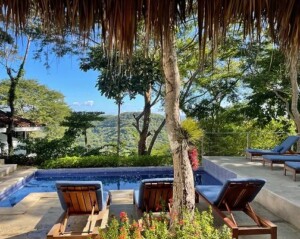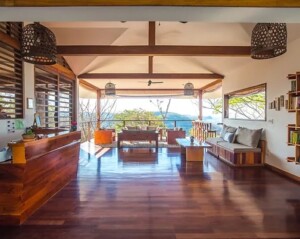 Verdad is perched on a hillside, overlooking Playa Escameca Grande (a secluded beach) with shaded hammocks, lounge chairs, a pool-with-a-view, and a beach bar/restaurant where you can sip and sample some fresh Nica-style food with sand between your toes.  The stunning beauty of the area and vast, striking views across the valley and out into the open sea will immediately draw you in. The surrounding tropical forests boasts a wide array of colourful flora, fauna and abundant wildlife offering opportunities to see a diverse variety of birds, howler monkeys, lizards of all shapes and sizes and 4 species of sea turtles (eggs are often laid on their beach!). The small port town of San Juan del Sur is about 20 minutes away where you can stroll quaint streets, dine at one of several beachfront restaurants, sip local beer, savor some infamous gelato and wander, soaking in the chill vibe and browsing the shops.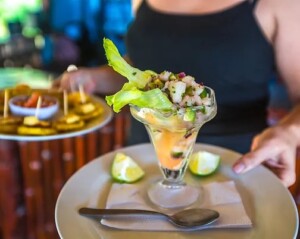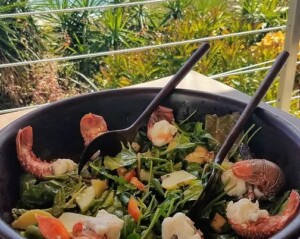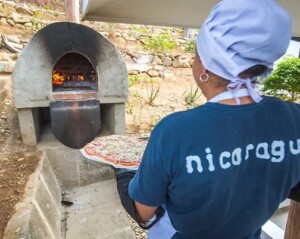 Food is definitely a highlight at Verdad with Ocean to farm to table locally sourced and freshly prepared cuisine utilizing the freshest, quality ingredients from the soil and shores of Nicaragua. All seafood is locally caught; dairy products, such as eggs and homemade yogurt, are locally sourced and what isn't grown there in their garden, they get at the local farmer's market, supporting their neighbors in numerous ways.  Our days will begin with an early riser "pre-breakfast" of coffee, tea, fresh fruit, homemade granola and local yoghurt. After a spacious morning yoga practice we'll enjoy a full "Nica" breakfast/brunch. The beach bar and restaurant offers the opportunity to order delicious sips and freshly prepared food throughout the day. Following our late afternoon yoga practice we'll enjoy a relaxed dinner highlighting the very best of the local bounty of fish, pizza from their brick oven and seasonally available local produce and dairy. Verdad caters fully to every dietary need serving vegetarian, gluten-free, vegan or anything else so everyone can enjoy the scrumptious flavours and cuisine of Cocina Verdad.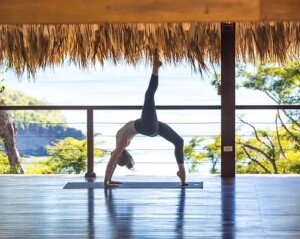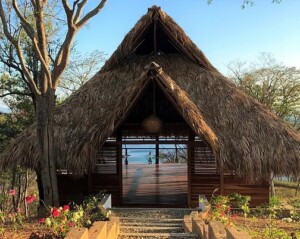 The beautiful open air ocean front 900 sq ft yoga shala is spacious, with a gorgeous backdrop that serves up the perfect rhythm of the Pacific Ocean lapping the shores of Playa Escameca Grande. The Shala is fully stocked with Manduka mats, blocks, straps and bolsters. We will steep in 2 yoga practices most days, with a daily morning practice that will offer a more energetic opening and a late afternoon "luna" style restorative deep releasing and opening practice. As always, you ultimately make it your own based upon how your energy and body are feeling, modifying in either direction.
There are 4 Ocean View Casitas that are designed for double occupancy, 1 duplex ocean view casita that accommodates two people on each floor with a private bathroom on each floor. All casitas have ceiling fans and private decks (one on each floor of the duplex casita). Additionally there are 2 poolside rooms which feature outside seating areas, ceiling fans and AC.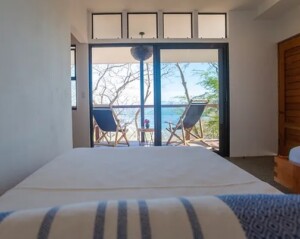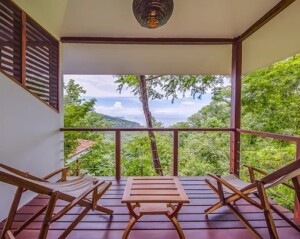 Sample Day
6.30a ~ Early riser pre-breakfast, coffee, tea
8.00a ~ Spacious morning yoga practice
10.00a ~ Full "Nica" breakfast/brunch
You can make your retreat as unscheduled as you wish!  Massages can be had, as well as various activities including but not limited to: deep-sea fishing, surfing and surf school (!), paddle-boarding, zip-lining, ATV tour to remote villages and hiking untouched nature to pristine waterfalls, horseback riding, and just simply "being" amongst the lush beauty of Verdad and its surroundings.
5.00p ~ afternoon chill yoga
7.00p ~ Locally sourced, freshly prepared delicious Nica dinner.
Your Investment  
Ocean-view Casita double occupancy $2200 per person, private single occupancy $3600
Duplex Ocean view Casita 4 people (2 people sharing on each floor, private bathroom on each floor) $2000 per person, 2 people (1 person on each floor) $4000 per person
Poolside Room double occupancy $1600 per person, private single occupancy $2800
Non-refundable Deposit of $750 secures your spot. This is a small, luxury boutique hotel and we expect to sell out quickly. WE STRONGLY URGE YOU TO PURCHASE TRAVEL INSURANCE. Unforseen things do happen to us all at times, and it is smart to protect yourself just in case.  Payment in full is due by October 31st 2024 and is non-refundable after this date. You are responsible for your flights and ground transportation and can choose to fly into Liberia, Costa Rica or Managua, Nicaragua. I will assist in organizing ground transportation from either Liberia, Costa Rica to Verdad,  OR from Managua, Nicaragua to Verdad. Please email here with your questions and to secure your spot on this very special winter retreat!