Madeira is a sub-tropical Island, situated in the Atlantic, approximately 400 miles off the coast of Northern Africa, boasting gasp-worthy raw natural beauty that makes it stand out as a destination for world-class hiking along the Levada trails, to waterfalls, through deep valleys and to the highest sea cliffs in all of Europe, while being super attractive to ocean and mountain lover alike. This will be our third retreat to this enchanted island and this time we will be staying at one of the oldest historic Quinta's on the island, located on a vast estate with vineyards and a farm, nestled high in the hills overlooking the Bay of Funchal with panoramic sea views all around.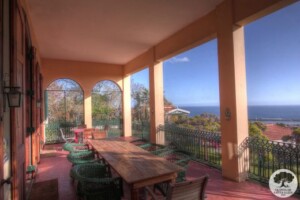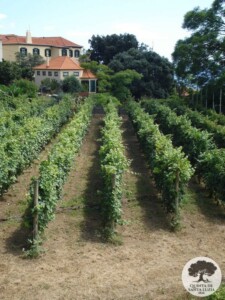 Traditionally, Quintas supported the households and families of those who worked there and were a mainstay of the local economy. Not that much has changed, but now guests are invited to stay on the property to help maintain this rich culture that dates back centuries as well as have a unique experience of what living on a Quinta was all about. Our Quinta has all the feels of being located far away from the hustle and bustle of Funchal, located high in the hills, with sweeping views over the Atlantic and city below, and yet we can walk down into Funchal from the property in around 15 minutes and be in the heart of the city.  There is a beautiful pool on the property, as well as a snooker table, piano, and tennis court. There are 8 bedrooms suitable for double occupancy, and 1 single room, all except two rooms have en-suite bathrooms (the 2 without share one bathroom).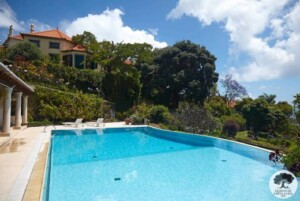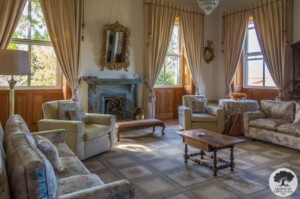 We will practice yoga twice daily, (taking advantage of being outside as the weather allows) you will have the opportunity to join several hikes that we will organize during our week, as well as enjoy a tour of the estate with the owner and experience a wine tasting (of course!). People travel from all over the world to hike on Madeira – there are over 1300 trails differing in intensity, topography, length and setting and this has definitely been a highlight on our previous retreats here. Additionally, for this retreat we will have our own Chef, Stacey Schulz! Stacey is a life-long Chef, has been at the culinary helm of many renowned restaurants as well as having owned restaurants in Napa Valley & Scottsdale, and we are thrilled to be partnering with her for this unique retreat.   Expect breakfast daily, as well as a couple of lunches (as excursions allow) and 3 or 4 dinners on site. Funchal markets are fantastic, and our Stacey is super excited to provision the markets to highlight the extraordinary diversity of raw ingredients that are grown on the island. We will also enjoy a few dinners at some excellent authentic restaurants, and most lunches will be out as we will be making the most of exploring this jewel of an island during the week.
A Sample Day
7:00a ~ Coffee, tea
8:00a ~ Morning Yoga
10:00a ~ Breakfast at the Quinta
11:00 a ~ Hiking Excursion/Explore Funchal/Tour the Quinta Estate/Lounge by the pool/reading/napping!!
Lunch ~ most days will be out, but hopefully on the day we tour the Quinta and one other we lunch at the Quinta
Afternoons ~ when on hiking excursions we will be hiking 🙂 Otherwise, endless options depending on what you're up for
5:00p/5.30p ~ Afternoon Yoga
7:30p ~ Dinner at the Quinta or at an authentic restaurant
Evenings on the veranda full of conversation and laughter, snooker/billiard tournaments (!), enjoying the comforts of the Quinta and getting a great nights sleep.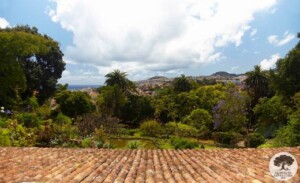 Investment for your pleasure
As we only have 8 double rooms, sharing a room is strongly encouraged. Rooms can either have a double bed, or be split into two twin beds.
Double Occupancy with en-suite bathroom ~ $2800 per person
Double Occupancy sharing bathroom with one other room ~ $2000 per person
Single Room (there's only 1 true single room) ~ $4000
Private (single) Room with en-suite bathroom ~ $5600 (this is a room that can accommodate 2 people, that you choose to take privately)
Private (single) Room sharing bathroom with one other room ~ $4000 (this is a room that can accommodate 2 people that you choose to take privately)
What's Included: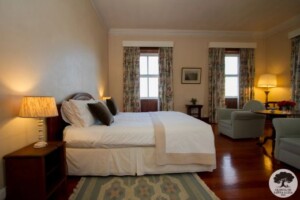 • 7 nights accommodation at the Quinta
• Breakfast daily at the Quinta
• 3 – 4 Dinners at the Quinta
• Yoga daily, twice daily most days
• Mid-week linen and towel change and full housekeeping of the Quinta
• Exclusive use of the stunning Quinta property with views and gardens
• Tour of the Quinta
• Large outdoor pool with views over Funchal Bay & Atlantic Ocean
• So much more!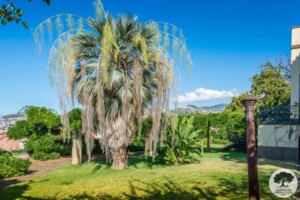 What's NOT included:
• Your Flights!
• Hikes/Excursions
• Wine/alcohol at the Quinta – we are staying on a vineyard estate tho so worry not ….
• Lunches/meals off-property
Deposit of $750 reserves your spot. Cancellations prior to May 31st 2024 will receive a refund less the $750 deposit.  Cancellations after May 31st are non-refundable with any outstanding monies owed fully payable.   From May 31st onward full amount is required upon registration and any remaining balances are due. PARTICIPANTS ARE RESPONSIBLE TO BE ADEQUATELY INSURED, THEREFORE TRAVELER'S INSURANCE IS STRONGLY RECOMMENDED.  We highly recommend that all our participants secure quality travel insurance.  AIG offers Travel Guard, and Sqauremouth is an online platform that aggregates between insurers to provide competitive rates.  By submitting payment toward your retreat you agree to these terms. PLEASE PURCHASE TRAVEL INSURANCE – Unforeseen circumstances do occasionally happen.