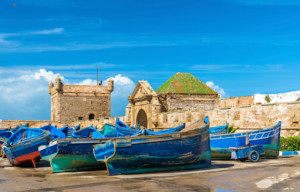 Bright and breezy Essaouira, on Morocco's Atlantic coast, is an enchanting, laid-back alternative to the frenetic melting-pot of Marrakesh. The town's name means "little picture" in Arabic, and it's a painter's dream location, with a vibrant blue-and-white "medina" (inner walled city), enclosed by fairy-tale, sand-coloured ramparts and imposing stone gates ("Babs"). Beyond the colourful port, rolling waves and a wide buttery beach stretching for miles complete the canvas.
Essaouira lies on the crossroads between two tribes: the Arab Chiadma to the north and the Haha Berbers in the south. Add to that the Gnawa, who came originally from further south in Africa, and the Europeans, and you get a rich cultural mix.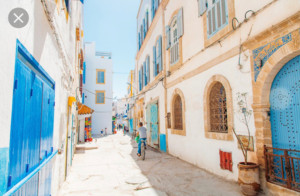 Largely due to the coastal wind – the beautifully named alizee, or taros in Berber – the town is largely bypassed by the hordes of beach tourists who descend on other Atlantic Coast destinations in summer, allowing Essaouria (essa-weera, or es-sweera in Arabic) to retain its traditional culture and character.  Known as the 'Wind City of Africa', it attracts plenty of windsurfers between April and November, but the majority of visitors come here in spring and autumn to wander through the spice-scented lanes and palm-lined avenues of the fortified medina, browse the many art galleries and boutiques, relax in some of the country's best hotels and watch fishing nets being mended and traditional boats being constructed in the hugely atmospheric port.   The bustling medina is much easier to navigate than you'd imagine. A series of linked streets forms a central spine leading directly from the northern gate, Bab Doukkala, to the main square of Place Moulay Hassan, by the waterfront. Tiny passageways and pungent souks splay outwards like fish-bones.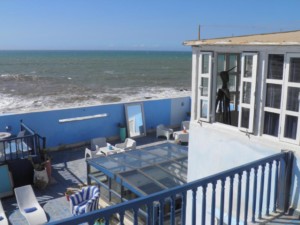 Our home away from home in Essaouria will be the charming, intimate guest house La Maison des Artistes, situated directly on the coast with stunning panoramic views of the Atlantic Ocean and town.   I have reserved the entire Riad (guest house) for our intimate group, which will be a maximum of 14 people.  There are a variety of rooms available as well as the stunning Pavillion de César Loft for that extra special experience of a private terrace, large open space and panoramic 360 degree ocean views.    All rooms have their own private bathroom.  Breakfast will be served daily at the Riad, and we will then have the opportunity to experience a variety of local restaurants serving fine fresh cuisine for dinner and lunch.  I will be arranging for a guide to give us a taste of the rich history of the Medina.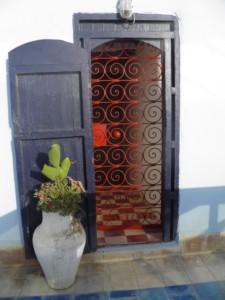 Retreat Includes:
Daily Morning Yoga Practice with Claire Copersino
Freshly prepared breakfast
7 nights at La Maison des Artistes
Full access to the roof-top terrace and common spaces throughout the Riad
3 Afternoon Yoga/Meditation Sessions with Claire Copersino
Tea available until 7p
Prices for your Pleasure
"Venise" & "ROI" rooms  with skylights, windows onto the terrace, private bath ~ $1299 pp
"Des Voyageurs" & "Florence"rooms ~ Patio,
Ocean and Remparts View ~ $1599 pp
"Flaubert" & "Scala" ~ Terraced Rooms ~ open space, Ocean View ~ $1750 pp
"Pavillion de César" ~ large open loft with private terrace and Panoramic 360 degree ocean views $2200 pp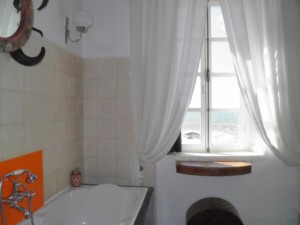 All prices are per person, based upon double occupancy.  Private Room is double so strongly urge sharing 🙂  All rooms, with exception of Flaubert and Scala can be either twin beds or double.  Flaubert and Scala can ONLY be double bed.
$750 deposit to secure your spot, $1500 per room.  Deposit not refundable after April 1st 2019.  I strongly recommend you buy travel insurance for peace of mind just in case the unexpected happens.  As I'm sure you can understand, I cannot be held responsible for your plans changing so please strongly consider protecting yourself.