Overlooking the Aegean Sea and Filizi Beach, Okreblue Eco Yoga Retreat sits on the relatively untouched Santa Maria seaside, located on the tranquil peninsula of Paros Island, Greece.  Okreblue has been designed to be in total harmony with the natural surroundings, close to nature in it's raw purity to offer deeply nourishing conditions that provide a respite from the busyness of life while encouraging your own replenishment, rejuvenation and restoration into a greater sense of wholeness, equanimity and happiness.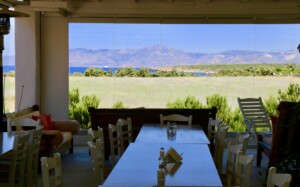 Local Parians, Sasy & Angelo have been developing Okreblue for over 15 years on land that has been in Angelos family for over a century. They have preserved the natural landscape of the family land, and developed Okreblue with minimal impact on the natural surroundings. Okreblue is an oasis, far away from the busier, more touristed Greek Islands where Sasy & Angelo share their love of nature, clean and nourishing food and a simple healthy way of life.
Our days will begin with sunrise over neighboring Naxos, perhaps a sunrise swim (?) and a light snack and coffee/tea before a spacious yoga practice in our dedicated Shala. Okreblues chefs focus on fusing Ayurvedic principles with the character of traditional Greek cuisine. The delicious meals are organic and plant-based with ingredients mostly sourced from Okreblues organic garden as well as locally on Paros and around Greece.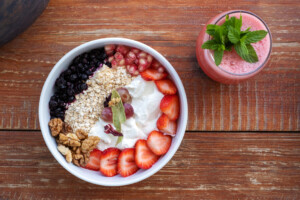 We will enjoy a hearty, delicious brunch after morning practice overlooking the Aegean, contemplating how much (or little we might get up to in the afternoon. Massages will be available, as will several excursions during the week which you can join should you choose. Okreblue is located on the beach … perfect for walks, swims, napping and sunning. Late afternoon yoga will be gentle and restorative ushering us into a wonderful supper, watching the evening (and maybe the moon if we're lucky) rise.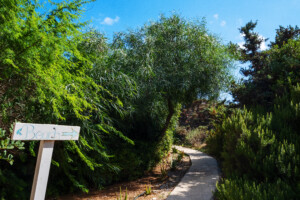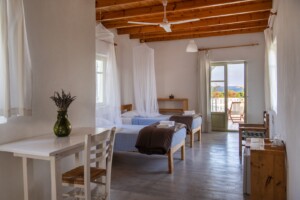 Our stay and sleep will be in comfortable, rustic simplicty. The rooms are open, naturally lit, and purposefully. minimal to simplify your experience during our retreat.  Most rooms face the seaside and are a stones throw away from Filizi Beach and the glorious Aegean Sea. Every room has an ensuite bathroom and is available for private or double occupancy. There are a couple of rooms suited for triple occupancy which is particularly well-suited to a more economical (and fun) retreat experience.  We do have two large sunny and very special spacious studio apartments available on the rooftop of Okreblue. They both offer sweeping views of the Aegean, one of neighboring Naxos, spacious balconies and are suited for double occupancy (or private for a special treat for yourself). Each has its own spacious ensuite bathroom.
What's Included?
•   7 nights/8 days Accommodations at Okreblue Eco Yoga Retreat with private bathroom
•   Light breakfast and 2 delicious freshly prepared meals daily
•    2 spacious daily yoga practices: more energizing in the am/gentle in the pm
•   Daily room cleaning service
•   Tea and filtered water throughout the day
•   Wireless Internet Access
•   Yoga Mats, Props etc available for use at Okreblue
A typical Day:
7.30a ~ Sunrise Meditation
8.00a ~ Light breakfast/Coffee/Tea
8.30/9a ~ Spacious Yoga Practice
11.30a ~ Hearty Brunch
Afternoons will vary … some days an excursion will be available if you like, book a massage, beaching/sunning/napping, exploring ….
5.00p ~ Gentle, restorative Yoga Practice
7.00p ~ Hearty Supper
Your Investment:
Double Occupancy (2 people sharing a room) – $2000 per person
Triple Occupancy (3 people sharing a room) – $1600 per person
Private Occupancy (1 person in a room) – $3400
Apartments Double Occupancy (2 people sharing a studio) – $3500 per person (if private occupancy, $7000)
Deposit of $750 reserves your spot. Cancellations prior to May 31st 2023 will receive a refund less the $750 deposit.  Cancellations after May 31st are non-refundable with any outstanding monies owed fully payable.   From May 31st onward full amount is required upon registration and any remaining balances are due. PARTICIPANTS ARE RESPONSIBLE TO BE ADEQUATELY INSURED, THEREFORE TRAVELER'S INSURANCE IS STRONGLY RECOMMENDED.  We highly recommend that all our participants secure quality travel insurance.  AIG offers Travel Guard, and Sqauremouth is an online platform that aggregates between insurers to provide competitive rates.  By submitting payment toward your retreat you agree to these terms.