The Osa Peninsula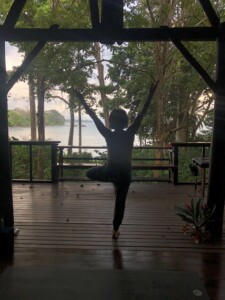 The southern pacific coast of Costa Rica, has long been known as the remote jewel of Costa Rica. The Osa Peninsula, of which half is protected by national park and local and international private reserves, is considered to be one of the most biologically diverse places on the planet.
Thanks to aggressive conservation efforts, the forests of the Osa remain home to endangered species such as Baird's tapir, the white-lipped peccary, jaguars, crocodiles and the harpy eagle. It boasts the largest population of the endangered scarlet macaws in the entire country, and is the center of the very restricted distribution of the endangered Central American squirrel monkey. This small peninsula is host to almost half of Costa Rica's 860 species of birds (that is almost 5% of the world's species!), 140 species of mammals, and 117 species of reptiles and amphibians. Almost 750 species of trees have been catalogued in the area, more trees than in all of the North temperate regions of the world combined.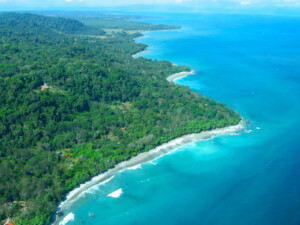 Cabo Matapalo
Cabo Matapalo is the tip of the Osa peninsula where Encanta La Vida is located. Cabo Matapalo is 40 minutes from Puerto Jimenez, at the mouth of the Gulfo Dulce. This area is known for the amazing concentration of wildlife combine with beautiful beaches and coves.
Around Encanta

Encanta la Vida is a remote jungle lodge, surrounded by lush vegetation and wildlife, just minutes from pristine beaches and primary rainforest. This is an ideal location for those looking to unplug from everyday life, dive deep into the rhythms of the natural world, and have an off-the-grid adventure surrounded by the sights and sounds of nature.
According to National Geographic, The Osa Peninsula is "One of the most biologically diverse places on earth".Watch an incredible abundance and variety of animals including monkeys, toucans, macaws, cotamundi, aguiti and sloths – often sighted from our cabins. Cabo Matapalo's secluded beaches and coves offer a unique environment of world class beauty and tranquility to beachcombers and surfers.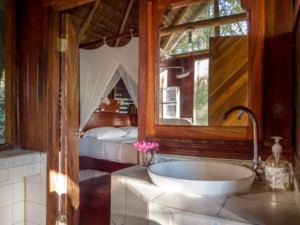 Lodging is in 9 different accommodations tucked in along the tropical garden paths. All guest accommodations are furnished with top quality mattresses, linens, lights, fans, private bathrooms and hot water. Guests will enjoy the comfort of private patios and balconies set up with rockers, hammocks  adding to a relaxing ambiance.
The Yoga Shala is a beautiful two-story yoga deck made from rainforest hardwood and is equipped with brand new Manduka™ yoga mats and props.  Located under the rainforest canopy at the edge of the ocean, you'll overlook the tropical blue waters of Pan Dulce Bay with the sounds of the tropical jungle layering on top of the ocean waves rolling in to create the perfect musical backdrop for a serene and nature-inspired yoga experience.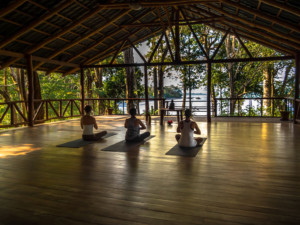 Retreat Includes:
7 nights accommodations at Encanta la Vida
3 delicious, freshly prepared, locally sourced meals daily that can be catered to specific dietary requirements (must know prior to arrival)
2 Yoga Practices daily led by Claire Copersino
Daily Meditation
Use of Encanta la Vida's facilities, including their Salt Water Pool
3 beaches within easy walking distance
Hiking trails from Encanta including to 2 waterfalls
Easy access to Corcovado National Park
A myriad of excursions, activities, adventures and spa services to add-on to your retreat experience as you choose
Prices for your Pleasure: 
MULTIPLE OCCUPANCY,  (1 person) Queen Bed ~ $2600  Twin Bed or Shared Queen ~ $2400   
SINGLE OCCUPANCY (PRIVATE) ~ $4000 . 
Deposit of $750 secures your spot and is non-refundable after August 1st 2022. Cancellations prior to September 1st 2022 will receive a refund less the $750 deposit.  Cancellations after November 1st 2022 are non-refundable with any outstanding monies owed fully payable.   From November 1st 2022 onward full amount is required upon registration and any remaining balances are due. PARTICIPANTS ARE RESPONSIBLE TO BE ADEQUATELY INSURED, THEREFORE TRAVELER'S INSURANCE IS STRONGLY RECOMMENDED.  We highly recommend that all our participants secure quality travel insurance.  AIG offers Travel Guard, and Sqauremouth is an online platform that aggregates between insurers to provide competitive rates.  By submitting payment toward your retreat you agree to these terms.